About HWNA
Who we are and how you can get involved.

Join HWNA
It only costs $5 per year to belong to HWNA.

Crime Watch
Help us keep Westheight safe.

Calendar
Upcoming events, meetings, etc.

Suggestions
Tell us what you'd like to see HWNA do and how we can improve this web site.
Historic Westheight Holiday Homes Tour
Sunday, December 12, 1999, 1-7 p.m.
Six first-time homes will highlight this year's tour of nine homes and the St.Paul's Episcopal Church.. Sites will be marked by Christmas tree signs and lighted luminarias. The ends of Washington Boulevard will be barricaded off with access only for tour traffic all afternoon.

The cost of the tour is $6 in advance or $7 at the door of any site the day of the tour. Pre-sale tickets are available through all the Fields Florists locations. All proceeds will be set aside for HWNA's traffic-calming efforts.

Music throughout the neighborhood will be provided by Kansas City Kansas Public Schools. The J. C. Harmon High School Chamber Singers under the direction of Elaine King will be caroling from home to home mid-afternoon. Sumner Academy flutist Bethany Fye will play in the early afternoon at the home of Superintendent of Schools Ray Daniels and Mrs. Daniels (2235 Washington Blvd).

Two district-wide student groups will be in concert at St. Paul's. At 3 p.m., the All-City Children's Chorus directed by Barbara Kniffen will perform, then at 4 p.m. Richard Bateman will direct the district's Harp Ensemble concert.
Purchase tickets at these locations
Advance tickets for $6 will be available three weeks prior to the tour at all Fields Florist locations:
11930 Roe Blvd. (345-9441)
720 Minnesota Ave. (371-1010)
Field's Florist (8272 Mission Road)
7823 Parallel (334-1321)

Tickets will also be available for $7 at each tour location on December 12.



Homes on the 1999 Tour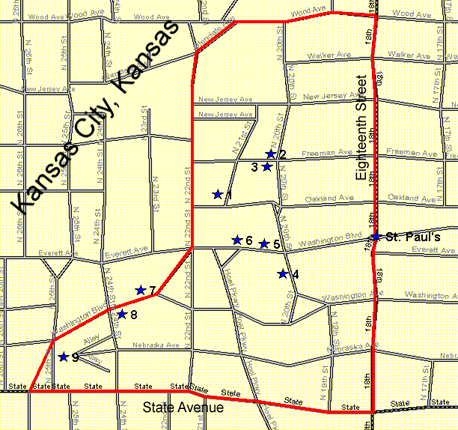 1.1600 N 21 ST
2. 2002 FREEMAN AVE
3. 2011 FREEMAN AVE
4. 2001 WASHINGTON BLVD
5. 2024 WASHINGTON BLVD
6. 2100 WASHINGTON BLVD
7. 2300 WASHINGTON BLVD
8. 2235 WASHINGTON BLVD
9. 2413 NEBRASKA COURT

and, of course, St. Paul's Episcopal Church, 18th & Washington Blvd.

Call any board member or e-mail Donald Caswell (below) to reserve your tickets.