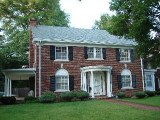 Edward M. Boddington Residence
1830 Washington Boulevard
Victor J. DeFoe, Architect
Built 1924
Unusually conservative for a design by DeFoe, the accentuated main entry, symmetry and balance in overall design, and multipaned fenestration are identifying features of this Colonial Revival home. At the time, this style of architecture was dominant for domestic building throughout the country. The less exaggerated details, such as the ones found on this home, more accurately represent this style. Unusual features are the quarter-round windows flanking the chimney where an arched window punctuates the surface. The owner, Edward Boddington, was an attorney with Robertson, Higgins & Boddington. His law partner, Fred Robertson, resided in a DeFoe-designed house at 2219 Washington Boulevard.
---
Back to Top
Back to Structures
Back to HWNA Home page.