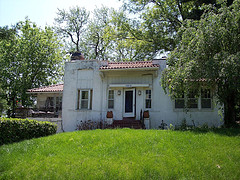 Harry M. Winkler Residence
1915 Washington Avenue
Architect unknown (Louis S. Curtiss?)
Built 1921
This one-story, tile block and stucco house for the owner of Winkler's Jewelry Store presents an intriguing appearance which suggests a Curtiss-inspired design, but which has evidently been somewhat altered over the years. There appear to have been transom areas originally containing stained glass similar to those on the Miller, Rickel, and Tromanhauser houses. A watercolor rendering of the house was included in a March 13, 1921 advertisement for Westheight Manor in the Kansas City Kansan, which makes very clear the resemblance to other Curtiss designs of the period. Unfortunately there is no name or signature visible on the rendering.
---
Back to Top
Back to Structures
Back to HWNA Home page.