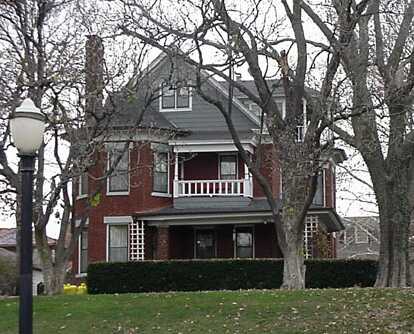 Emma & David Taylor Residence
2024 Washington Boulevard (originally 2110 Everett Avenue)
Architect: unknown
Built 1889
The Walnut Grove farm owned by Hanford N. and Sarah Kerr covered some 380 acres west of 18th Street, the original farm house standing near the site of this structure. In about 1886 a son, Hanford L. Kerr, built a large house a block to the west, and the elder Kerrs subsequently moved in with H. L. and his wife. H. N. Kerr then built this house in 1889 for his daughter Emma and her husband David Taylor, on seven acres originally purchased from John Crow. Like H. L. Kerr's house, the Taylor house was in the Queen Anne style, with brick below and shingles on the upper level, and was graced with an open balcony on the second floor and a tower porch on the third. It occupies one of the two highest points of ground within Westheight. It was purchased in 1914 by J. O. Fife, the father-in-law of Jesse Hoel and financial backer of the Westheight Manor development. The house was severely damaged in a fire on 16 April 1988, then beautifully restored.
---
Back to Top
Back to Structures
Back to HWNA Home page.