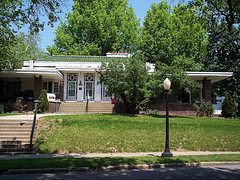 William E. Rickel Residence
2000 Washington Avenue
Louis S. Curtiss, Architect
Built 1919
An eclectic/early modern house, white stucco on wood frame, with decorative use of brick and polychrome tile, banked casement windows, terraces and planters, and a green Spanish tile roof. In Curtiss' distinctive late style, the most obvious comparisons are to his Tromanhauser residence of 1914-15, the Wookey residence of 1915 in Toronto, Ontario, and the Miller residence of 1920-21. Of particular note is the way the two sets of steps curve and recurve as they descend the high grass terrace. It has been suggested that this was a builder's copy of the Miller residence, but the house was built two years before Miller's, and the attribution to Curtiss has been confirmed. Rickel was a prominent local attorney who became vice-president of the Fairfax Industrial District. After just a few years residence he sold this house to William E. Goebel and moved to a rural address at Bethel.
---
Back to Top
Back to Structures
Back to HWNA Home page.